The Sony HVR-A1E is Sony's smallest professional HDV camcorder. Its lightweight makes it a one-of-a-kind camcorder compared to all those other heavy ones. It is capable of providing high-definition video at an outstanding 1080 line resolution, which by its size is a unique find.
The camcorder features high-end technology like CMOS, which makes it possible for the camera to have its ultra-compact design. With a simple, but full feature list, the HVR-A1E makes it possible for customers using standard definition ca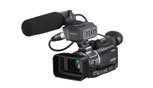 mcorders to finally diverse to a better quality high definition camcorder.
Its affordable price makes the deal even better. This is a great camcorder for anyone wanting to upgrade to HDV… Full Review of The Sony HVR-A1E